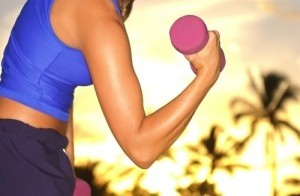 Can your technology help you lose weight?
By admin on January 17, 2012
One of the most common New Year's resolutions is: "I want to lose weight." Studies have shown that fitness goals are often better achieved if you have sufficient motivation, as well as support from others – often a personal trainer or nutritionist. But, more and more people are also turning to technology to help them achieve their physical goals. Here some of our favorite digital fitness tools:
1. Mobile fitness apps. There are dozens of downloadable smartphone apps that can help you lose weight – whether it's one that tracks how far you walk or run (such as RunKeeper or the Nike app), or apps that let you take note of everything you eat, as well as exercise (iTrackBites, Lose It!, My Fitness Pal).
2. Social media support. For many people, getting positive encouragement from others is what motivates them to push themselves further. From posting weight loss successes on Facebook and Twitter to joining specific online groups and chats centered around similar fitness goals, people can get the support they need from not only their family and friends, but also from people going through the same struggles with weight loss.
3. Creating a fitness blog. Many people have decided to start blogs that coincide with their diet or exercise regimens, which gives them both a forum to talk openly about their fitness successes (and failures), while also offering them a chance to develop an online following of other like-minded and supportive individuals.
One thing to keep in mind when turning to the internet for weight loss help is that there are online scams everywhere. Don't click on spammy ads about weight loss, or enter personal information for a fitness site unless it is an established one. If you are worried that your computer may have contracted malware from one of these sites, contact a local Virginia computer repair service for virus removal today.
For a Free Computer Repair Quote Call (202) 670-9966
Related Virginia Computer Repair Articles
Keeping Your Data Safe
Issues with Mac Optical Drives
Still Using Windows XP
How to turn off a computer the right way
Can your technology help you lose weight?