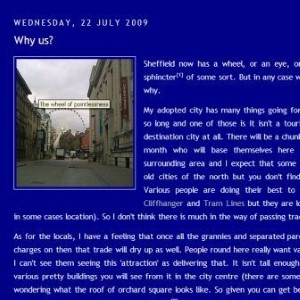 Should you start a blog?
By admin on February 9, 2012
Blogs are hugely popular these days, and sometimes it seems like nearly every business, news source and stay-at-home mom has created a blog to share their thoughts with the world. In fact, as of this summer, the popular blog hosting site, Tumblr, had more than 20 million blogs alone, according to Mashable.
There are many great reasons to start a blog – primarily, it's free. If you create a blog using Tumblr, WordPress or any of the other blog hosting sites, all you need to do is select a username and password, and provide a working email address for confirmation.
If you want your own domain name or advanced features, you can pay a little more for an upgraded version, but for most people, the free version works just fine. In addition, hosting sites such as these incorporate the HTML and other coding on their own, so they are very user-friendly, even for those that aren't very well versed with websites.
Their tone is a bit more informal than other mediums, so whether you're getting a blog for personal or professional reasons, it's a great way for viewers to see a different side of you. Blogs are often used to supplement media sources for a more specific or specialized topic, or created by businesses to report on updates and other new ideas related to their industry. It's also very easy to incorporate images, video and music into blogs, as well.
Another great thing about them is that they can help you create an environment in which you can meet other people who share your interests. People can follow your blog, "like" your posts and comment on them, too. Just be careful about a commenter you don't know – don't give them personal information about yourself, and don't click on links posted by people you don't know. If you click on a poisoned link, you may need to contact your local Virginia computer repair service for virus removal.
For a Free Computer Repair Quote Call (202) 670-9966
Related Virginia Computer Repair Articles
Malwarebytes
Still Using Windows XP
Windows 8 Review: The Good
Integrated vs. Dedicated Graphics
Two Anti-Virus Programs at Once