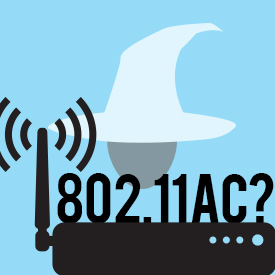 Is a Wireless AC Router Worth it Right Now?
It seems like every year there is some kind of a huge breakthrough in wireless technology.  And with more devices connected to Wifi than ever (Ipads, Smartphones, Desktops, Laptops, Kindles,etc) an improvement in Wifi speeds is very necessary.  It started with a,b,c, and now.  Each offering more coverage and more speed than the other.  With that, however, comes the unfortunate and expensive task of having to match all the wireless hardware with the aforementioned routers.  A new technology is on the horizon and it promises to the best so far.  Is it worth it to get now?
Benefits of Wireless AC
Backward compatible with Wireless N
Up to 3x Faster than the fastest Wireless N
Super-fast transfers inside the network (video streaming, gaming, files transfers, etc)
Extended range coverage
5Ghz connection will allow for a lot less interference than 2.4
Drawbacks of Wireless AC
Not yet standardized
Few (if any) integrated into devices
Expensive to upgrade all hardware
5 Ghz allows for less range at the moment
USB adapters provide slower interface
Very few places offering this technology
Summary
Just like Wireless N routers, Wireless AC routers will flood the market soon enough.  Apple is already in place to release integrated AC adapters in their upcoming Macbooks this fall.  As soon as other vendors follow suite, Wireless AC will be any and everywhere.  It is certainly a welcomed upgrade to Windows N.  The dual-band nature of the product will ensure that less interference and congestion will allow for better and speedier connections.  I would not recommend upgrading at the moment simply because the hardware is not there yet.  Give it time and it will become the new standard!  Those who are on the fence should simply hold off until later this year.  Those who are itching to get it installed and willing to pay the hefty prices, will certainly enjoy faster data transfers and more seamless streaming of HD video.  If you have problems setting up the router, please contact a computer repair company.
For a Free Computer Repair Quote Call (202) 670-9966
Related Computer Repair Articles
Buying the right desktop computer
Jury still out on the new wave of tablet/laptop hybrids
Is a Wireless AC Router Worth it Right Now?
Sleep mode means you spend less
Renaming File Extensions