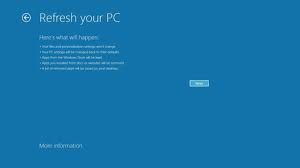 Windows 8 New Refresh Tool
By kyle on April 30, 2013
We have all been there before.  We buy a brand new computer and we are very happy with the speed and snappiness.  Everything runs like a brand new Mercedes.  After weeks, months, and years, that Mercedes starts to run more like a bicycle and things that once seemed instant, now seem like they take forever.  We used to have a call a computer repair technician and spends hundreds of dollars to get this fixed. We also had the option to completely restore our computers back to their factory settings, but that would take forever and we would lose all our files.  The brains over there at Microsoft have kept us in mind by releasing a Windows 8 Refresh tool.
What is It?
Windows 8 Refresh tool will allow Windows 8 to basically re-install itself on the computer.  It stores settings, files, and personalized option.  It also allows it to run a lot smoother than before and you will feel like you are running a brand new computer.
What doesn't it save?
The only thing that it doesn't do is re install external programs.  But a list will show up on your desktop showing which programs you will need to install again.
How do I do it?
Press the Windows Key + C to open the charms menu.
Select Settings.
Select "Change PC Settings"
Select General on the Tab from the Left.
Select "Refresh Your PC without Affecting Files"
Follow the on screen directions.
Summary
The refresh tool is perfect for those who are experiencing minor problems, freezes, and slowdowns on their computer.  It acts a lot like a system recovery, but makes a data backup for you.  People who are experiencing issues with their computer and thinking about contacting a computer repair company should first try a refresh in Windows 8.  It can be a lifesaver!
For a Free Computer Repair Quote Call (202) 670-9966
Related Computer Repair Articles
Sleep mode means you spend less
How to change font size for Macs
How to understand a "blue screen of death"
Zeus Virus
Blue screen does not necessarily mean end of computer