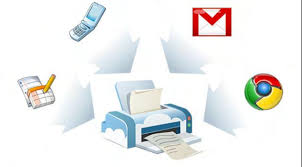 Using Google Cloud Printing
Wireless printing has always been a major headache for the everyday computer user.  They are complicated, frustrating, and usually result in hiring a computer repair company to set them up.  However, recently, there has been a major shift in what we use to print.  It started off with desktop computers, shifted towards laptops, made another turn towards tablets, and now has entered the mobile world.  Mobile phones, equipped with ridiculous speedy 4G connections, have become the go-to for many to browse the internet.  With bigger screens and better technology, cell phones have replaced computers in many situations.  But one thing has always remain a bit a mystery: How do I print from my cell phone?
Google Cloud Printing answers this mystery and does so quite nicely.  It will allow you to print from your Android or iPhone.  Here are some instructions on how to do so:
Install Google Chrome (if you don't already have it installed).  Also make sure you have a Google Account (if you don't already).
Within Chrome, go to the advanced settings. This will allow you to add printers to our Google account.  You will be able to select which ones you want to print from anywhere in the world!
Android
From Android devices, there are a slow of native apps that can utilize Google Cloud Print.  These include PrintJinni, Printer Share, and the dedicated Google Cloud Print App.
IOS
On the IOS, the best software is probably PrintCentral Pro and allows you to print directly from your iPhone or iPad.
Summary
Google Cloud Print is an excellent way to utilize your mobile phone or tablet as if it were a computer.  Gone are the days of emailing yourself articles just to print them out later on your computer.  With mobile phones and tablets acting a lot like their computer cousins, it's about time we're able to print from them.
For a Free Computer Repair Quote Call (202) 670-9966
Related Computer Repair Articles
Windows Failed to Start Errors
How to change font size for Macs
Issues with Mac Optical Drives
Is a Wireless AC Router Worth it Right Now?
iCan't decide: Which are better, tablets or laptops?