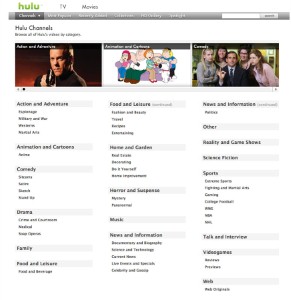 Computer repair can enhance Hulu's new video player
By admin on July 24, 2012
If Netflix's astronomical streaming figures prove anything, it's that the warm summer days have done little to pull people away from their computers. The company reportedly logged a landmark 1 billion hours of streaming content in June. Now, the entertainment website Hulu has released a new video player that will make tv and movie viewing even more smoother online.
Video streaming websites have made binge watching a common pastime in many American homes. Instead of waiting a week to watch the next installment of their favorite TV shows, viewers now have immediate access to an entire series. Many publications have speculated over whether or not these intensive viewing sessions enhance or impair an individual's appreciation of a specific show, but there is no doubt that media companies are promoting the habit.
Hulu's recent alterations, for example, seem geared toward the bingeing crowd. The official Hulu blog describes a new feature of the video player, called "Up Next," that further enables this habit. With this addition, users will be able to search through new videos within the same viewing screen, so they can determine the next episode they plan to watch before the current one has ended.
To further encourage non-stop viewing, Hulu has even removed the option to turn off its autoplay function, which means that the video player will have a new video lined up whether viewers want it or not. PCMag notes that some Hulu users have been particularly put off by this tactic, though.
Regardless of how you choose to watch online content, be it in short bursts or drawn-out sessions, it's important to make sure that your computer is up to the task. If your device is bogged down with spyware, or simply isn't running as quickly as it should, contact a local computer repair service for help. The technicians at Geeks On-site can ensure that people in Maryland, Virginia and Washington, D.C can watch their favorite shows without interruption.
For a Free Computer Repair Quote Call (202) 670-9966
Related Computer Repair Articles
Should I Pay for PC Cleaning/Speed Up Apps?
Two Anti-Virus Programs at Once
Computer repair can enhance Hulu's new video player
Unautomatic Updates
8 New Features in Windows 8