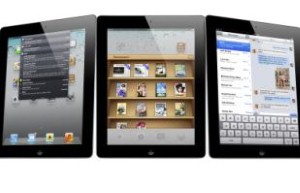 Rumor has it: iPad 3 will be released in March
By admin on February 10, 2012
Beginning with Apple's release of the first iPad in April 2010, tablets have hit the world by storm, changing the way we interact and use computers. Although the concept of the tablet computer had been around for some time, the iPad's lightweight design, portability and touch screen capabilities drove millions of people to purchase the device and consider the tablet as an alternative to a desktop or laptop computer.
The iPad 2 was released in last March, and was also immensely successful. While the release of the iPad 3 hasn't been officially determined, rumors are circulating the Web that Apple will follow its past trends and release the iPad 3 as early as the first week of March.
According to the tech magazine, PC World, one of the largest claims circulating about the new tablet is that it will boast an LCD panel with Retina Display technology.
"'Retina is just a marketing term Apple uses to refer to displays with great than 300 ppi (pixels per inch), which – viewed from a distance of about 12 inches – is the maximum number the average human retina can discern," writes PC World writer, Matt Peckham. "The iPhone 4 and 4S, running at 960 by 640 pixels across 3.5 inches diagonal, meet this criteria, but the iPad 2, running at 1024 by 768 pixels across 9.7 inches diagonal, doesn't."
If your desktop or laptop is getting older (and slower), and you are unsure whether or not to get computer repair or just purchase a new one, a tablet such as the iPad can be a great purchase, particularly if you lead a very on-the-go lifestyle. But, they do tend to be a little expensive, so you might just want to contact a local Maryland computer repair center instead.
For a Free Computer Repair Quote Call (202) 670-9966
Related Maryland Computer Repair Articles
Target Disk Mode
Four great techie holiday gifts
Windows Failed to Start Errors
8 New Features in Windows 8
Making Your Own Windows 8 Recovery Image