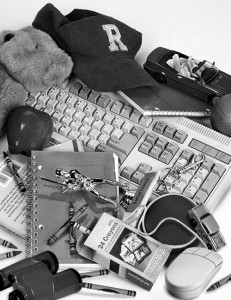 How to keep your computer organized in 2012
By admin on January 3, 2012
Every January, people across the world make resolutions for the new year, and more often than not, many of these individuals resolve to become more organized. But, being organized doesn't just mean that you color code your closet or clean out the basement.
As more of your important information is stored digitally, implementing a system to sort this data is more necessary than ever. And because a disorganized filing system on your computer is less messy than scattering paper files across the floor of your bedroom, chances are, your computer is even more cluttered than your junk drawer.
The first step to take when organizing your computer is to create new folders and label them in a way that makes the most sense to you, whether it's by date, category or, if more than one person uses the computer, account name. Your goal is to have as few folders as possible, so think long and hard about which labeling method is the most efficient. Within these folders, make sub-folders, and if you come across a file that doesn't fit in your system, simply make a new folder or sub-folder.
Then, start going through your files, including word documents, pictures, downloads and music. Place the files you don't use in the Trash and drag the others into the desired folder. After you've finished, look over the items in the Trash folder one last time, and if you're sure you don't need them, click "Empty Trash" to purge the system.
Cleaning out your computer will not only make information easier for you to find, it will also speed up your system. So, before you bring your PC into a local Virginia computer repair center to check for virus removal, try organizing it first.
For a Free Computer Repair Quote Call (202) 670-9966
Related Virginia Computer Repair Articles
Liquid Damage on a Macbook
Do-it-yourself solutions to common computer problems
Windows Defender to the Rescue
Can your technology help you lose weight?
Why is My Computer So Slow????