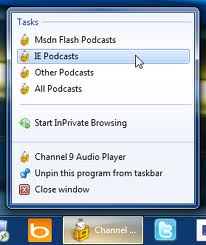 How to Fix the Jump List on Windows 8
By kyle on March 26, 2013
Like Windows 7, Windows 8 keeps a very handy Jump list on ALL the tabs of the taskbar. By right clicking any of the icons on the taskbar from inside the Windows 8 desktop, you will be able to see a list of the most recently accessed files. While in many cases this may seem like a good idea, there are several instances in which this can be a bad thing. Sometimes you simply do not want your family members or colleagues to see the most recent files that you have accessed. And while Windows 8 offers a way to remove selected tabs from the Jump List, a new and more embarrassing one may appear in its place. How do we fix this? How can we erase our Jump Lists and use our computers in peace? It is actually quite simple.
1. Right-click on the Windows Tool bar and select properties. You should see this screen below…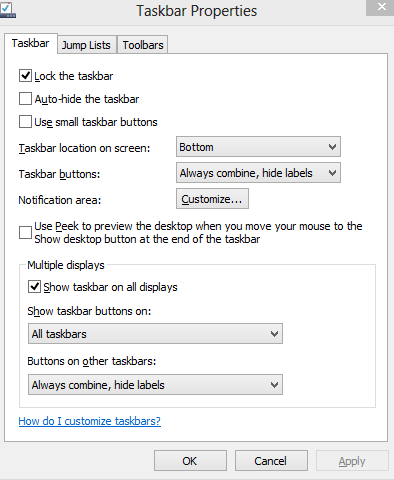 2. Select Jump List from the menu. You should see this screen below…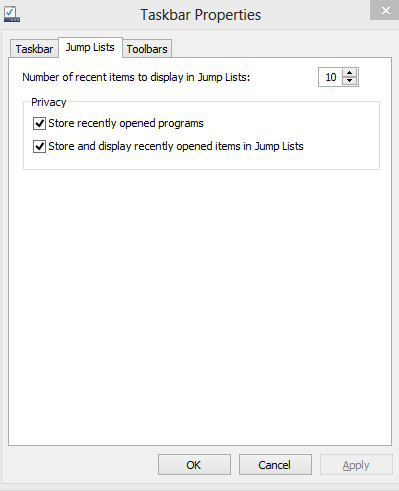 3. All Done. Set the settings of your choice.
Summary
While this may not be a feature that applies to everyone, it is still important in overall protection of your data. We spend so much time and effort on protecting our computers from viruses and malware infections from complete strangers, however, we neglect
For a Free Computer Repair Quote Call (202) 670-9966
Related Computer Repair Articles
The problem with touchscreens: a Windows 8 preview
How to get started with a new computer
Help! My laptop sounds like a lawnmower
How to change what the power button does
How to take a screen shot