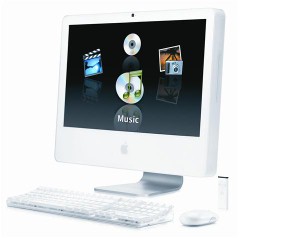 How to change font size for Macs
By admin on December 23, 2011
If you feel as though you almost need to touch your nose to your computer's screen to read the print on your Mac, it doesn't necessarily mean that you need computer repair – or an eye exam, for that matter. You might just want to consider adjusting the size of the screen's font.
To change the font size of your screen's display on a Mac, click on the Apple icon and select "System Preferences" (note: these directions are for Mac OS 10.7 or later). Within that tab, click on "Universal Preferences" and select "Seeing."
From there, find the Zoom section and select "On" to turn it on. The Mac will let you adjust the size to your liking, so after you've turned on zoom, just hold down on the Command and Alt keys before hitting the (+) key to start zooming in. Press the (+) as many times as you need until you can comfortably read the font. If you have made it too large, you can simply hit the (-) key to zoom out. Play around with the levels until you have reached the right font size for you.
But, if you're wearing your glasses and the font is still difficult to read, or the screen's images and graphics look blurry to you, go back to "System Preferences" and click on "Display." Try to adjust the resolution, lower the brightness or calibrate the screen colors, as any of these modifications could help you see the text on the screen better. If it still looks blurry, however, the problem could be the monitor, and you might want to take your computer to a local Virginia Mac repair center, just to be safe.
For a Free Computer Repair Quote Call (202) 670-9966
Related Computer Repair Articles
How to spot fake online reviews
How to identify and troubleshoot a Windows stop error
Making Your Own Windows 8 Recovery Image
Computer repair can enhance Hulu's new video player
My Laptop Screen is Black!